Visiting Gravity Garden, September 11, 2001
TREE STONES STACKED, Sculpture by Jim Needham
©2001 Jim Needham, All Rights Reserved www.rockstacker.com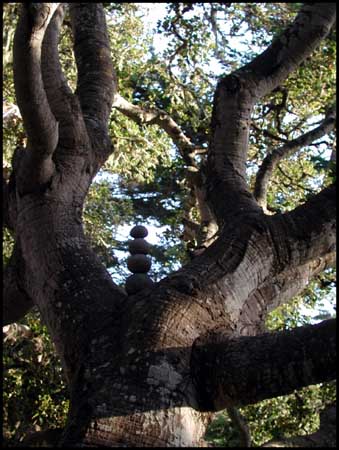 Two years ago I started to gather a certain clan of round stone from the Yuba River in Northern California. A year ago I visualized using them in TREE STONES STACKED which I saw as an installion comprised of many groups of stacks, each made from these circular gray stone balls, and each placed at locations I had identified throughout the tree. The effect will be to weave the stone stacks and the tree into a single fabric.
Today, I climbed up in the tree and made my first stack. After seeing the image in my mind for over a year it was only today I actually saw an example. Wow! This is going to be more spectacular than I had imagined. It will look equally outstanding in a large public garden, a park, or a private estate. I am excited by commissions for public locations and would be interested in hearing from you if you have a project in mind. In any event I will have to get the rest of my rocks into that tree right away. Expect new images of this one soon!